Top sailing campaigns
'Success is not a co-incidence', is a comment frequently used by Roy Heiner. Success is a result of the correct focus, input and preparation. You push luck aside. Team Heiner is above all a sailing company which revolves around performance, about winning the race. Therefore Team Heiner initiates, undertakes and coaches challenging sail projects, at all levels, to win.
For example the Volvo Ocean Race, or the Everest of ocean sailing. The most challenging yacht race around the world spread over nine legs in nine months. Team Heiner has been there for many times. Look at the successful campaigns, each of them with their own dynamics: BrunelSunergy in (by then) the Whitbread Round the World Race 97-97, Assa Abloy 2001-2002 and of course the winning Team ABN AMRO in 2005-2006.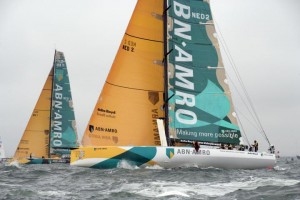 The Volvo Ocean Race 2005/2006 had two Dutch entries, both of ABN AMRO. Roy Heiner was technical director of both teams and made the ninth edition of the Volvo Ocean Race a great success for the Netherlands. A success defined as winning the Volvo Ocean Race by the black boat, crewed by professional sailors led by skipper Mike Sanderson. But the white boat has won many awards too. ABN AMRO offered the most talented sailors around the world the opportunity to participate in the Volvo Ocean Race. By an open selection the best sailors were adopted and challenged to excel in the race of races. And at each stage to go for the glorious victory.
Where in the Volvo Ocean Race around the world the comparison is drawn with the climbing of Mount Everest; there is the America's Cup compared tot he Formule 1 racetrack. The America's Cup is in all aspects the most prestigious sailing event in the world, where the duel between to boats (match racing) forms the basis of the competition.
The ships have been designed to be used with the leading and most modern techniques, on the border of what the rules allow. This is the extreme extracted from all possible elements that includes sailing. Never has a syndicate been participating in this competition under Dutch flag. If it comes to Roy Heiner, that will change some day. The America's Cup is and remains his ultimate dream.
Team Heiner has all the expertise and experience to initiate and manage international top sailing campaigns at the highest level. Both on sail technical, organisational and marketing level. With us you are at the right place!